2017 CT Lung Cancer Screening Protocol Challenge
Accumetra has launched a second lung cancer screening protocol challenge in collaboration with the Prevent Cancer Foundation. The goal of this year's challenge is to help the lung cancer imaging community determine the best CT acquisition protocols for the detection and measurement of early lung cancer. This challenge will use Accumetra's new CTLX1 phantom which quickly provides fundamental CT image quality information throughout the full CT scanner field of view and is being pilot tested for use in new lung cancer imaging recommendations and guidelines.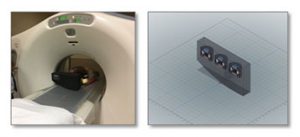 We are offering FREE CTLX1 phantoms to US and International CT lung cancer screening sites that agree to submit periodic CT scans of this phantom throughout 2018 and follow emerging RSNA/QIBA guidelines for performing quantitative CT lung nodule change measurements with high accuracy. To participate in the challenge and ongoing clinical image quality studies sites should send email to
info@accumetra.com
.